Fine Arts
"Crystal Bill" Kaunitz brings you spectacular rainbow imagery found inside ancient quartz crystals. The beauty of these transparent eternal stones combines wonderfully with the precision of high-resolution macro-photography. Crystal Bill searches through tons of crystals to find outstanding natural artworks that formed 200 million years ago.
The patterns you see in these fine art photos existed from the beginning of time. The pure colors offer therapeutic effects by stimulating your imagination, the retinas of your eyes, and hopefully your heart and spirit.
Crystal Bill photographs the most unusual patterns in a variety of palettes and shapes from these small natural holograms. The original rainbow patterns in quartz crystals range from 1/4 inch long to 8 inches wide. We magnify the rainbows by printing up to 8-foot long panels, permanently sealed onto metal plates. Multiple panels can be placed together for even larger displays, even 100 feet long.
This photography is extremely durable, and is appropriate for indoor or outdoor displays. The lightweight panels can be safely washed or wiped clean. Prices are available on request for metal prints from 17 inches up to 8 feet long, as well as custom designed larger sizes. We also offer square, round, oval and rectangular shaped prints. Delivery time in the U.S.A. is two weeks. Please call, text or Email for a price quote or for more images from our hundreds of designs.
Email: [email protected]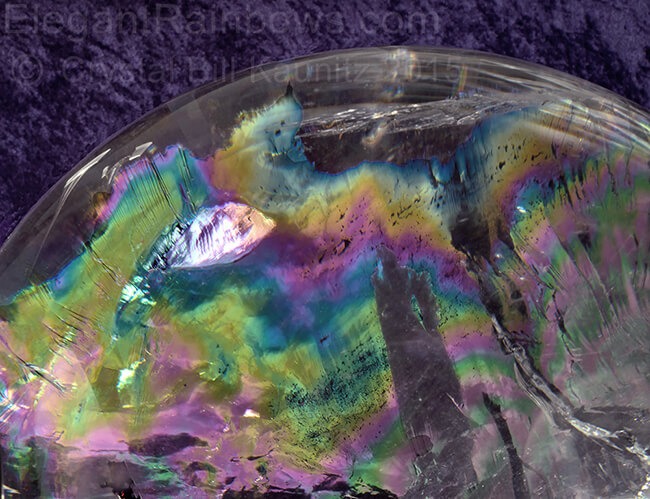 Super Ball 9